CONTEXT:
Conversion Copy Co's first client is a leading supplement brand in Canada.
Their products are premium, very popular, and available in nearly every major retail chain across the country, as well as major e-tailers, supplement chains, and independent health stores.
From 2014 to around 2017, I wrote their blog (driving traffic to a peak of 120k/month) and their first big website (which generated a 600% lift in sales year-over-year).
I co-developed their brand positioning and messaging. (Still in use today.)
And over the years, I'd occasionally step back in to help with a project. Sometimes to write a magazine ad or article. At other times, to create lifecycle emails (welcome, abandon cart, etc.) Or to manage a freelancer's content.
ISSUE:
At the beginning of fall 2021, I popped back onto the site…
And I noticed room for conversion optimizations. The new-in-2021 site was pulled together by the design/development team under considerable time constraints. Some of the earlier conversion copy didn't make it into the new design.
Traffic to the site had dropped dramatically, too. 
New content wasn't always up to scratch. And in total, there were about 300 blog posts in need of a refresh.
Even though overall sales growth has been consistently very strong, we wanted to lift DTC sales.
Because DTC sales are much more profitable. And of course, bricks and mortar buyers often decide between brands based on the digital experience, even if they never order online.
SOLUTION: 
To solve the issue, here's the process I led:
Audited SEO performance for the entire site
Did in-depth keyword research (the type you can only do when you really know the brand and the products)
Created and executed a plan to nix, merge, and redirect underperforming posts
Optimized posts with decent traffic and ranking (ones that just needed a lift)
Optimized core website pages + product pages to convert AND rank
Added sales language to blog posts, to drive more of that traffic to the store
Advised on upgrading the UX on the blog, core site, and shop pages
Mapped out a content plan to close gaps in our keyword coverage
Brought in a freelancer to produce quality new content
RESULTS:
In the past 90 days, search traffic has shot up from about 10k page views per day to about 20k
(The SEO consultant has been working on backlinks, too, so this increase isn't all mine.)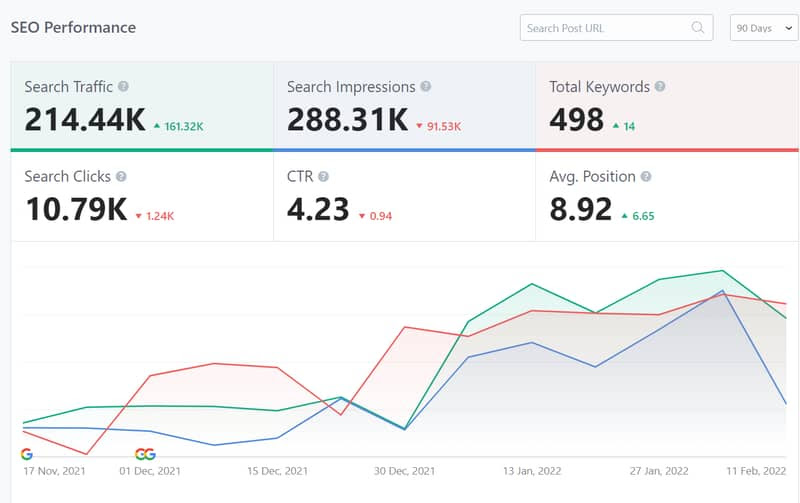 Compared to last year this quarter, sales are up 100.96% (Even though the most popular product — by far — is OOS.)
And many of the product pages are either just newly optimized, in development, or in the queue. So, sales will definitely go up.
But even so:
In 90 days, we doubled the e-commerce revenue without any new ad spend.
100% organically.
Mostly by changing words on pages, but also with design enhancements.
Would you love a lift like this?